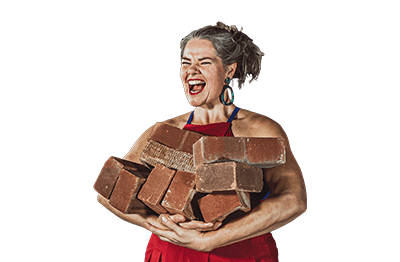 Power
A solo circus-theatre work, celebrating the ways we can feel powerful, even in an uncertain world.
POWER is a new work that combines circus physicality, voice-over soundtrack and verbal storytelling to ask how we can feel powerful, even in an uncertain world.  It is optimistic, uplifting, funny, physical and at times moving.  POWER is created for theatres, but is easily adaptable for rural touring and outdoor performances.
As a circus artist, I am a Strong Lady.  I have spent most of the last twenty years touring outdoor arts festivals internationally, performing feats-of-strength with my signature mix of muscle, comedy and elegance.  With POWER, my first solo theatre show, I have developed a new style in my work that integrates verbal and physical storytelling.
POWER was born from interviews I recorded with real people, about their experiences of feeling powerful.  These people's stories are the heart of the work, told with a mix of verbal storytelling, voice over from interviews, and physical storytelling through circus vocabulary.  Their stories intersect with the autobiography of a Strong Lady wrestling with uncertainty.
From trying to feel powerful by controlling the mess (or at least being strong enough not to be touched by it), the show finds its way to accepting the mess of uncertainty and finding strength in places where we wobble.  It celebrates the power we have, to choose the next step through the mess, trading invincibility for resilience.  My aim is that audiences leave the show energised and hopeful, thinking about what story of power they would have told if I had interviewed them – or better yet, to start telling it.
The initial research and development of POWER was part of a Developing Your Creative Practice project, funded by Arts Council England. It featured mentorship from collaborators including Complicite, Ockham's Razor and Spy Monkey, who have heavily influenced the style of the show.  POWER has been created with an amazing creative team: Emma Bernard (Director), Matt Eaton (Sound Designer), Sophie Postlethwaite (Stage Manager, Lighting & Set Designer), Charlotte Mooney of Ockham's Razor (Creative Mentor), Ali King of Turtle Key Arts (Production Mentor).
At performances of work in progress, audiences have found the mix of comedy, storytelling, circus physicality and voiceover from interviews to be "uplifting", "inspiring", "hilarious" and "empowering".
Send an email if you'd like to receive an info pack or media release about POWER: A solo circus-theatre work for theatres and rural touring venues. Touring from September 2020 – with an outdoor arts festival version in the pipeline for 2021…
POWER is A WEEK 53 commission for The Lowry, Salford with co-commission from the Lawrence Batley Theatre. It received creation funding from Arts Council England and an award for adapting to rural touring from Cambridge Junction/Creative Arts East. The work is supported by mentorship from Turtle Key Arts and partnership with Metal, Jackson's Lane, Queens Theatre Hornchurch, and Seachange Arts.
POWER Pitch Video (for Venues + Festivals)
POWER Trailer Video (For Audiences)
THEATRE VENUES
Available for Touring from September 2020.  Covid-safe touring plan available – Email me to receive the full Tech Info pack.
75 min duration
Same day Get-In / Show / Get-out
No circus rigging points required
Minimum Space: 4m deep x 7m wide x 4m hight (ideally larger)
Creative Engagement / Wrap Around Projects
To increase the reach and impact of the project, as well as develop an audience for the work, I have creative engagement projects available with the show. Email to ask for an info pack with full details.
At no added cost:
Foyer project for people to share their stories after the show; Photo project for social media and exhibitions; Post-Show Q&A or panel discussion.
Additional cost on top of performances:
STORIES OF STRENGTH
Participants are guided in identifying and sharing their own stories of strength and power.  The project is crafted in a bespoke way for each community.  It can be delivered in a combination of: in-person or online workshops; or one-on-one outreach interviews.  The result can be: a physical/online exhibition with photos and audio of people's stories; or an open mic style performance for people to tell their stories.
GROW STRONG
Participants are guided in creating their own daily strength training flows (based in: yoga, functional movement and circus conditioning) and learn ways to develop a daily training habit that will grow both their physical and mental strength.
Rural Touring Venues & Unconventional/Outdoor Performance Spaces
With support form Creative Arts East and Cambridge Junction Theatre, POWER has been created to be adaptable for rural touring venues in mind.  It is also suitable for unconventional and outdoor performance spaces to accommodate Covid-safe performances.  Email me to receive the full Info pack. Currently booking rural touring for Autumn 2020 & Spring 2021 as part of the Creative Arts East network.
Outdoor Arts Festivals
In 2021, Building on my 20years of experience performing street theatre/outdoor arts, I will tour a new outdoor festival show: STRONG ENOUGH.  This is not a direct 'outdoor version' of POWER, but will draw heavily on the style and content of POWER.