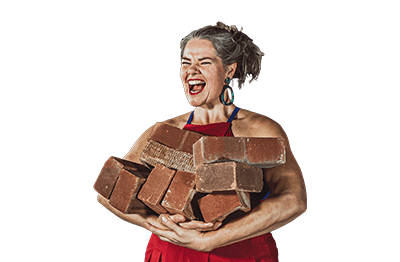 Power
After almost twenty years touring the planet as a circus strong lady, performing feats-of-strength, this new circus-theatre show celebrates the extraordinary ways in which ordinary people are powerful. POWER uses circus physicality and verbal storytelling to explore how we can feel powerful, even in an uncertain world & find strength beyond just lifting heavy things. The work is optimistic, uplifting, funny, physical and at times moving.
Autobiographical stories intersect with interviews of real people around the UK about their experiences of power – with their voices woven through the soundtrack to reveal moments of strength, resilience, connection, choice and change.
POWER is Charmaine Childs' first full length solo theatre touring work, after almost 20 years of touring outdoor arts festivals and variety shows internationally with her solo show STRONG LADY (which centres around lifting men out of the audience with a mix of elegance, comedy and
muscle) and as a circus base (the one who lifts the others in partner acrobatics).
The initial research and development of POWER was part of a Developing Your Creative Practice project, funded by Arts Council England, aiming to support Charmaine in making the leap from creating street theatre work to theatre work. It featured mentorship from collaborators including Complicite, Ockham's Razor and Spy Monkey, who have heavily influenced the style of the show.
At performances of work in progress, audiences have found the mix of comedy, storytelling, circus physicality and voiceover from interviews to be "uplifting", "inspiring", "hilarious" and "empowering".
Send an email if you'd like to receive an info pack or media release about POWER: A solo circus-theatre work for theatres and rural touring venues. Touring from April 2020 – with an outdoor arts festival version in the pipeline for 2021…
POWER is A WEEK 53 commission for The Lowry, Salford with co-commission from the Lawrence Batley Theatre. It received creation funding from Arts Council England and an award for adapting to rural touring from Cambridge Junction/Creative Arts East. The work is supported by mentorship from Turtle Key Arts and partnership with Metal, Jackson's Lane, Queens Theatre Hornchurch, and Seachange Arts.
to theatres around the UK and rural touring venues in the CAE network.
THEATRE VENUES
Audience Engagement offers available to accompany show (details below). Email me to receive the full Tech Info pack. Currently booking UK Theatre touring for Autumn 2020 & Spring 2021.
70 min duration (TBC)
Get-In / Show / Get-out possible in one day
No circus rigging points required
Audience Engagement
Below are a selection of engagement offers available to venues to increase the reach and impact of the project, as well as develop an audience for the work. Email to ask for an info pack with full details.
At no added cost:
1) Recording an interview with a local person for inclusion in the show
2) Public Participation: Story Bricks in foyer
3) Public Participation: Power Poses photo project
4) Post-Show Q&A (or panel discussion including local speakers)
Additional cost on top of performances:
5) Public Workshop: Stories of Power
6) Public Workshop: Grow Strong
7) Strong Lady Act for Events or associated Outdoor Festivals
Rural Touring Venues
Audience Engagement offers available to accompany show (details below). Email me to receive the full Info pack. Currently booking rural touring for Autumn 2020 & Spring 2021 (part of the Creative Arts East network.).
70 min show (TBC)
Option to add a post-show panel discussion after an interval
Get-In / Show / Get-out possible in one day
No circus rigging points or technical equipment required
Outdoor Arts Festivals
We are planning to create an outdoor arts version of POWER for touring in 2021. The aim will be to create something with minimal spoken text (and with voice overs translated to other languages) so that this show will easily tour internationally.